1961:
All The Thrills of Hayley Mills
Hayley Mills (born 18 April 1946) is an English actress. The daughter of John Mills and Mary Hayley Bell, and sister of actress Juliet Mills, Mills began her acting career as a child and was hailed as a promising newcomer, winning the BAFTA Award for Most Promising Newcomer for Tiger Bay (1959), the Academy Juvenile Award for Pollyanna (1960) and Golden Globe Award for New Star of the Year – Actress in 1961. During her early career, she appeared in several films for Walt Disney.
During the late 1960s she began performing in theatrical plays, and played in more mature roles. The age of contracts with studios soon passed. Although she has not maintained the box office success nor the Hollywood A-list she experienced as a child actress, she has continued to make movies and TV appearances, having two movies in post-production in 2010.
In 2007 Mills became a main character in the ITV Series Wild at Heart.
Mills was 12 when she was discovered by J. Lee Thompson, who was initially looking for a boy to play the lead role in Tiger Bay. Walt Disney's wife, Lillian Disney, saw her performance and suggested that Mills be given the lead role in Pollyanna. The role of the orphaned "glad girl" who moves in with her aunt catapulted Mills to super-stardom in the United States and earned her a special Academy Award.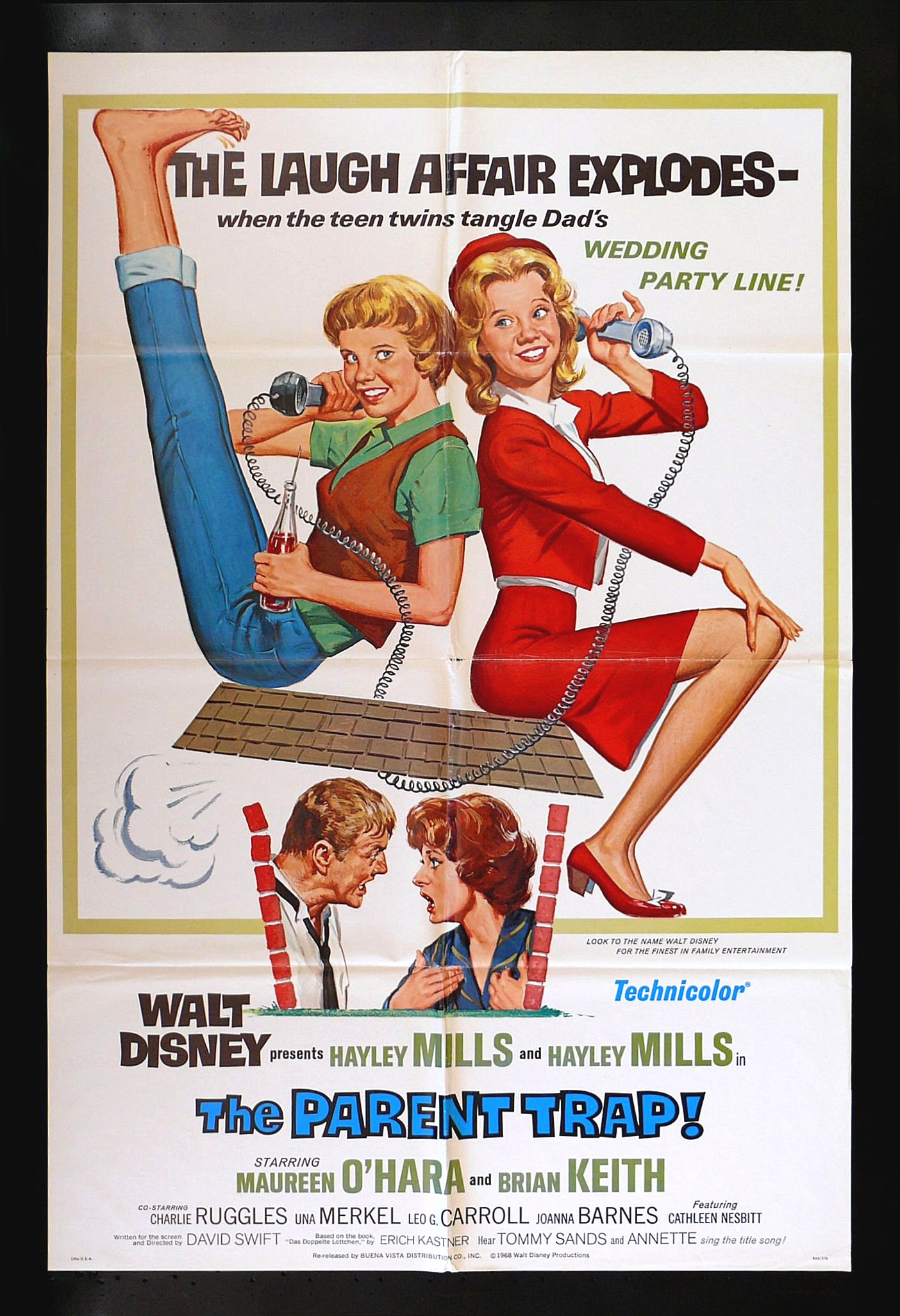 Disney subsequently cast Mills as twins Sharon and Susan who reunite their divorced parents in The Parent Trap. In the film, Mills sings the hit song "Let's Get Together." She made four additional films for Disney in a four-year span, including In Search of the Castaways and Summer Magic. The advent of the British Invasion in popular music in 1964, courtesy of The Beatles, allowed the maturing Mills to maintain her popularity. Her final two Disney films, The Moon-Spinners and That Darn Cat!, did very well at the box office, aided by a well-publicized meeting between Mills and Beatle George Harrison in March 1964.
During her six-year run at Disney, Mills was arguably the most popular child actress of the era. Critics noted that America's favourite child star was, in fact, quite British and very lady-like. The success of "Let's Get Together" (which hit No. 8 on the Billboard Hot 100 singles chart) also led to the release of a record album on Disney's Buena Vista label, Let's Get Together with Hayley Mills, which also included her only other hit song, "Johnny Jingo" (Billboard No. 21, 1962).
In addition to her Disney movies, Mills starred in several other films, notably Whistle Down the Wind 1961, (based on the book of the same title written by her mother, Mary Hayley Bell), with Alan Bates. The Truth About Spring (with her real father, John Mills, cast as her father and James MacArthur as the love interest), and The Chalk Garden, 1964 from the play by Enid Bagnold.
Mills was considered for the role of Lolita Haze in Stanley Kubrick's 1962 film version of Lolita. However, Walt Disney discouraged the casting, feeling the role was not up to Disney's wholesome standard, and the part eventually went to Sue Lyon.
In 1962 Disney announced plans to film I Capture the Castle, from the novel by Dodie Smith, with Hayley Mills in the role of Cassandra. However, Disney never produced the film.
1970:
Pink Floyd's "Atom Heart Mother" No.1 In Britain
Atom Heart Mother is the fifth studio album by English progressive rock band Pink Floyd, released in 1970 by Harvest and EMI Records in the United Kingdom and Harvest and Capitol in the United States. It was recorded at Abbey Road Studios, London, England, and reached number one in the United Kingdom, and number 55 in the United States charts, and went gold in the U.S. in March 1994. A re-mastered CD was released in 1994 in the UK, and in 1995 in the US.
This was the first Pink Floyd album to be specially mixed for 4-channel quadraphonic sound as well as conventional 2-channel stereo. The SQ quadraphonic mix was released on LP in a matrix format compatible with standard stereo record players. There was also a release of the quadraphonic version in the UK in fully discrete 4-channel form on the "Quad-8" format, a 4-channel variant of the stereo 8-track tape cartridge.
Cover art
The original album cover, designed by art collective Hipgnosis, shows a cow standing in a pasture with no text nor any other clue as to what might be on the record. Some later editions have the title and artist name added to the cover. This concept was the group's reaction to the psychedelic space rock imagery associated with Pink Floyd at the time of the album's release; the band wanted to explore all sorts of music without being limited to a particular image or style of performance. They thus requested that their new album had "something plain" on the cover, which ended up being the image of the cow. Storm Thorgerson, inspired by Andy Warhol's famous "cow-wallpaper," has said that he simply drove out into a rural area near Potters Bar and photographed the first cow he saw. The cow's owner identified her name as "Lulubelle III". More cows appear on the back cover, again with no text or titles, and on the inside gatefold. Also, a pink balloon shaped like a cow udder accompanied the album as part of Capitol's marketing strategy campaign. The liner notes give a recipe for whole stuffed camel.
The album cover appears in Stanley Kubrick's film A Clockwork Orange. It is viewable on a shelf in the music shop scene.
Song summaries
The title track was to have been called "The Amazing Pudding", though Ron Geesin's original score referred to it as "Epic". Its name was changed after Geesin—who co-wrote the piece and arranged the orchestration on the recording—pointed to a copy of the Evening Standard (dated Thursday 16 July 1970), and suggested to Roger Waters that he would find a title in there. The headline was: "ATOM HEART MOTHER NAMED", a story about a woman being fitted with a nuclear powered pacemaker.
The piece is a progression from Pink Floyd's earlier instrumental pieces such as "A Saucerful of Secrets". The "Atom Heart Mother" suite takes up all of side one, and is split into six parts, featuring a full brass section and choir which take most of the lead melody lines, while Pink Floyd mainly provide the backing tracks; a reverse of the 1960s pop music practice of using orchestration as the background, and putting the rock band in front. However, there is one section where a bluesy electric guitar solo by David Gilmour takes the lead.
Critical reaction to the suite has always been mixed, and all band members have expressed negativity toward it in recent times. But they appear to have been enthusiastic about the suite in the early 1970s, taking a full brass section and choir on tour just for the purpose of performing this piece; a move which caused the tour to lose money. A later arrangement without brass or choir, and pared down from 25 minutes to 15 by omitting the "collage" sections and closing reprise of the main theme, remained in their live repertoire into 1972, performed in concerts that also previewed The Dark Side of the Moon.
June 2008 saw Ron Geesin perform "Atom Heart Mother" with Italian tribute band Mun Floyd over two nights as part of the Chelsea Festival. Geesin introduced it with a history and slide show. The performances featured full choir, brass and noted cellist Caroline Dale, who has worked with David Gilmour. The second night saw Gilmour join Geesin on stage for the performance. The song was extended to over 35 minutes and received many excellent reviews.
Side two opens with three five-minute songs: one by each of the band's three resident songwriters, and closes with a suite with sound effects primarily conceived by Nick Mason, but credited to the whole group (and based mostly on musical ideas by Gilmour). Therefore, this album's concept is similar to their previous Ummagumma album, in that it features the full band in the first half, and focuses on individual members in the second half. Roger Waters contributes a folk ballad called "If" which he would play frequently at live shows in support of his Radio K.A.O.S. album, more than a decade later. This is followed by Rick Wright's brass-heavy "Summer '68", a critique of the "rock 'n' roll" lifestyle that would soon become characteristic of Pink Floyd. Next is David Gilmour's "Fat Old Sun", for which a 15 minute extended arrangement spent two years as a key part of the band's live set, and is a staple of Gilmour's various solo tours.
The final track, "Alan's Psychedelic Breakfast", is divided into three segments, each with its own descriptive title, joined by dialogue and sound effects of then-roadie Alan Stiles preparing, discussing, and eating breakfast. A slightly re-worked version was performed onstage only once on 22 December 1970 at Sheffield City Hall, Sheffield, England with the band members pausing between pieces to eat and drink their breakfast.
The original LP ends with the sound of a dripping tap which continues into the inner groove, and thus plays on indefinitely.
1973:
Jhon Lennon's Lawsuit Against The US Government
John Lennon begins a lawsuit against the US government alleging his telephone was tapped at a time when he was fighting a deportation order for his political leanings.
Leon Wildes of New Jersey Jewish Standard said:
Many years ago, I called my father, who lived in Olyphant, Pa., and spoke to him in Yiddish. "It is always a pleasure to speak to you, Leon," he said, "but why are we discussing your latest deportation case in Yiddish?"
I told him that the FBI was probably tapping my telephone calls as well as the calls of my famous clients, John Lennon and Yoko Ono; the government, for some unspoken reason, had concluded that the Lennons' presence in the United States should be terminated immediately, and I had been informed by my clients that our telephones were tapped. I then tossed in a suspicious term [in English] like "First Amendment" or "illegal wire tap" to keep our conversation salty. I explained to my understanding father that at least some hardworking elderly Jewish gentleman like him would have to be hired to translate the conversations, which would appear to be clearly in a suspicious foreign tongue. Why shouldn't an elderly Jew get the job?
- From www.imaginepeace.com
Check other posts:
1966: Beatle Meets Second Wife
1967: Lennon Movie Premieres
1969: Lennon Releases 3rd Non-Beatle Album in 12 Months
1971: "Imagine" Top The Charts On Both Sides Of The Atlantic
1974:
Al Green Scalded By Girlfriend's Grits
A turning point in his life came in October 1974 when his former girlfriend, Mary Woodson, assaulted him at home with hot grits, burning him seriously before killing herself. The shock was so profound for Green that he later turned away from secular music. He found God and founded his own congregation in Memphis, the Church of the Full Gospel Tabernacle, where he still preaches from time to time until this day.
In Al Green's own words: "It was at one of those prison concerts, for the inmates at the New York State Correctional Facility, that I first met Mary Woodson. She was the kind of woman that when you first saw her, you'd take a second look, and then a third look, and then, after a while, your eyes would just become accustomed to turning her way. Mary was a radiant and ravishing woman. Mary had a classy way of carrying herself: She was statuesque graceful and proud. She was at the prison visiting a friend but she never told me what her friend had did to land in prison. Mary had all kinds of secrets, more that I could have imagined at the time. I casually asked Mary where she was heading after the concert but I already knew the answer and it was "There's nowhere else you're going but home with me."
But Mary didn't fall under my spell quite so easily. She begged off my invitation to come back with me to the hotel. It was late, she had to get up early. So, I offered her a ride in my limo into the city. I wasn't pushing anything. She was pretty and I liked having pretty women around me." But Mary had other things on her mind, right from the beginning. She was a real woman, I loved the smell of her perfume, she was new and exciting.
After my tour, I returned home to Memphis, Mary was in town. The infatuation I had for her blinded me to all the warning signs. I didn't care where she had come from or the baggage she'd picked up along the way. When I asked her about her past, she lied and told me that she had never been married and of course she didn't have any kids. The truth was, Mary had left behind a whole family in New Jersey to come and be with me but I'd only find that out later, after it was way too late.
Soon, her husband had come down from New Jersey to bring her back. She refused but he wasn't going to let her go and made it clear that she belonged to him and their children. She was living out a fantasy on borrowed time.
One night, I was in the studio working on new material when the door opened and a good looking woman rushed in and gave me a hug. It took me a minute to recognize her, her name was Carlotta Williams, a flight attendant I'd met on my travels.
When Mary came to the studio later, I introduced the two women and suggested that we all go back to my house.
The women seemed to get along fine as we all piled in my Rolls Royce. Carlotta sat up front with me and Mary sat in the back.
I kept glancing at Mary through the rearview mirror, disturbed by the strange expression she had on her face. Once she caught me looking at her and fixed me with a cold, appraising stare that sat my nerves on edge.
I went to my room to change my clothes. When I went to the kitchen, Mary was standing at the stove, stirring a big pot of water with a wooden spoon. She turned around and asked me had I ever thought about getting married, I replied, "Maybe we should talk about that in the morning."
When I asked her what she was cooking, she didn't answer me. Then suddenly, she whispered in my ear, "I would never do anything to hurt you."
Carlotta was in another part of the house listening to music. I then decided to take a bath. After I got in the tub, I soon heard a noise, I looked up and Mary was standing with the steaming pot in both hands. In the next second, my world exploded into a thousand splatters of pure agony. Mary had added grits to the water, making a thick, boiling hot paste. With all her strength, she hurled it at me. The grits scorched my naked back. The pain was so intense that I started screaming.
Carlotta burst in. "Al!" she screamed. It was then that I saw the egg sized blisters rising on my burned flesh. Mary rushed out of the bathroom.
Carlotta called a ambulance and was tending to me as best she could-when suddenly, we heard a gunshot. Despite being in pain, I rushed to Mary, she lay on the floor dead, clutching a gun.